Most AMPWs attack the Mantra and throw in a sure-fire answer to it that the other side, they say, could easily use to knock it down. This is humorous to any of us who have actually USED the Mantra, but keep in mind that none of those people have ever seen any debate using the Mantra.
Thus Jared made up a sure-fire argument that would knock the Mantra down in his quick dismissal of it. He said all the other side has to do is say that whites made their own immigration and assimilation policies, and, theoretically, could reverse them in a split second.
Like every other argument the anti-Mantra pro-whites (AMPWs) throw in, that one has been tried in the real world, and we have cut it to pieces.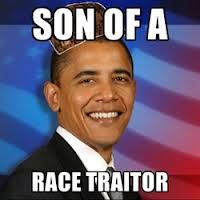 From the get go we know that white traitors are the problem, both the active and passive race traitors.
I am a white man. I am NOT a traitor. This distinction never occurred to Jared because he has never had any reason to think of it. He is too busy with the same old stuff. The same is true of all the other TOOs who throw in a sure-fire answer to the Mantra.
If a country favors a tyrant, as the Democratic Republic of Korea's population unquestionably does its ruler, does that make telling them that they are living in Hell any less valid?
Whites, like the North Koreans, accept white genocide first of all because it's the law and they have to live with it.
Jared's naiveté I can understand.
But NOT BUGSERS'. I have seen comment after comment talking about Jared's answer referring to "We" and "Us" as in "We are largely responsible for white genocide.
The "We" they are referring to is white people.
How in the HELL can a BUGSER call anti-white whites "We."
WE, meaning BUGSERS, have no relationship whatsoever with passive or active traitors to our race!
That is the mistake Jared and TOOs make, but you have not the slightest excuse for it!