Nick Griffin's speech was GENIUS.
But it contains one deviation from our message and one absolute violation.
His use of Zionist Supremacists as part of the "unholy coalition" was something I would not have done. But I am a staffer and Nick is up there in front.
That was a minor violation of our rule, but when he said, "The Final Solution to the White CHRISTIAN problem…" that was pure hijacking.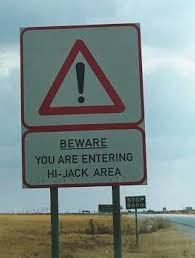 I wrote an article about James Edwards constantly trying to hijack us into "conservatism."
Listen, gang, the ONLY reason we are getting new attention is because we absolutely stick to BEING WHITE PEOPLE and ONLY WHITE PEOPLE.
There have been White Christian Movements out there for decades.
They lost.
There have been people whose obsession was with Jews.
They are on history's garbage dump.
The largest genocide in human history is being carried out against THE WHITE RACE. Anyone who throws in "Christian" or "conservative" or "Jews" is old, old, OLD, OLD news.
We must NAME Hijacking.
We must see every HINT of hijacking.
If our momentum is stopped, it will be because we allowed ourselves to be sidetracked into one of the old, garbage-canned grooves.
HIJACKING IS FATAL!