Some time ago a big advertising magazine had a lead article, "Objections to intermarriage in 2014?"
Like any magazine editor, it expressed shock that mere consumers would dare object to a Quaker Oats (?) ad featuring a mulatto child going from his white mother to his black dad.
The first irony here is what ADVERTISING is all about.
Advertising is supposed to be the science of KNOWING public opinion, not of JUDGING it.
Like any other big magazine, this publication hired an editor from the pool of carbon copies produced by the magazine bureaucracy.
But in advertising, astonishment at real public attitudes is not a mistake of the public, but of the advertising industry.
Advertisers are hired to KNOW public opinion, not to be astonished by it.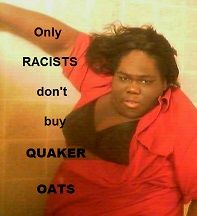 Let me explain this further: The magazine editor bureaucracy produces editors who tell the public what it SHOULD think.
Advertising is about what the public DOES think.
So the carbon copy editor did not come up through the advertising industry.
In real advertising, the question is "What do people prefer?" not "In the Year 2014 on the Magic Clock, this is what the public SHOULD think."
No editor, least of all in advertising, would hire ugly models. Models for ads are not representative of the public. No matter how often you repeat, "Real people don't look like that," there is no way this side of Hell that advertisers are going to hire fat, ugly models.
To most White people, the kid looks like every other mulatto.
In real world advertising, you don't tell people that ugly is lovely. That is fine for mainline magazines.
But in the real world real consumers don't LIKE ugly. Period.