Archive for category General
Dear Mr. *****,
Please allow this letter to serve as the attempt to resolve a right to a Free Speech for Whites complaint at the lowest level that it obviously is.
In your email letter from December 8, you refused to allow us to use the slogan "Diversity Means Chasing Down Whites" as well as our website, fightwhitegenocide.com. Your staff rejected the slogan as "non-factual" and our website address as "offensive." Having been a congressional staffer myself I am hoping your people will have the pride to actually ANSWER the question we keep putting to those who denounce us, but which is NEVER answered:
When has anybody ever mentioned that liberal "diversity" has been proposed as a solution to the problem of, literally, "too many whites"?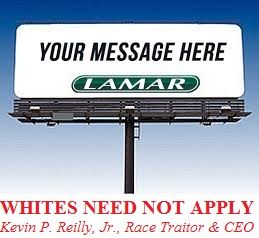 The SPLC did a fund-raising letter some time ago signed by former senator George McGovern, asking for funds to move non-whites into Northern Idaho! Recently, the claim has been remade that the University of Minnesota in Duluth has a "Diversity Problem." The solution proposed for solving this problem was, you guessed it, to remove Whites and create more seats for NON-whites, students and faculty alike.
In the real world "diversity" is NEVER used for anything except making White areas less White. If the entire establishment freely uses the term "diversity," why can we not declare that diversity is a code word and/or that "Diversity" means "chasing down whites"?
We all know the danger to our rights of the "slippery slope."
In 2012, Lamar Advertising allowed Unfair Campaign to proudly display "It's hard to see Racism when you're White."
Is it really Lamar's position that this opinion is any more factual or less offensive?
In the interest of "fairness," it would seem especially important for those in the advertising industry to beware of accepting such obvious and false limitations on language.
No explanation to us today may well mean a ruinous lack of explanation to you in future.
Sincerely,
Robert W. Whitaker
This letter was sent December 17th, 2014.