Archive for category How Things Work
We are the missionaries of the pro-white movement.
The real missionary movements that pay off are always scorned by those who are building new cathedrals back at church headquarters in Rome or Constantinople.
Only history tells you who laid the foundations of a church's absolutely vital expansion into new areas like Central and Northern Europe, which were of little important to the fifth century church.
But then Islam conquered the entire Middle East, and the area where the missionaries worked became the BASE of Christianity.
Fifth century church leaders wanted to spend money showing the Glory of God in giant buildings that would be there long after those pitiful little forays into Northern Europe petered out.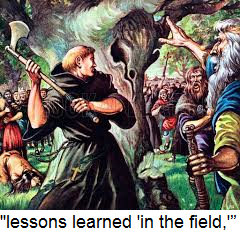 Some of those buildings are still there, provided they became useful as mosques.
You are presently experiencing exactly what those who saved Christianity by planting it outside the Roman Empire experience. It never even occurred to them that, when they came back with lessons learned "in the field," any of the church leaders or Great Intellects would want to LEARN from them.
If they ever got back to Rome or Constantinople, it was to LEARN the deep and true theology TAUGHT there. What really fascinates me is that you are getting first-hand EXPERIENCE of exactly what those missionaries faced.
Vanishingly few Old Hands are interested in Learning from you. James seems hardly to notice anything we actually have to say.
When the missionaries who were out building the basis of a Christianity after the rise of Islam came back, they were there to learn about the martyrs and prophets who had founded the church where its Intellectuals sat in Rome and Constantinople.
It didn't occur to any of the religious scholars that the lesson of the Fathers and martyrs they taught about was, in fact, missionary work. No, when the real missionaries came back it was to be TAUGHT True Orthodoxy.
I felt the same way on James's show.
If any of us get on James Edwards's show again, we need to point out that we have nothing to do with "conservatism." Like the Middle Eastern heartland of the Old Church, conservatism has been taken over by a new variation on Islam, neoconservatism.
Like the Christian missionaries, we must plant pro-white sentiments in areas where people are not anti-abortion nuts, pro-Israel monomaniacs, and possessed of a desperate desire to get more wars going.
And, above all, ASSIMILATION: Opening the borders and making True Americans of the Immigrants and taking the third world into our Traditional Values families.
We have no more intention of spreading "conservatism" than the real Christian missionaries did of spreading Islam.
Today's "Conservatism" is now just one more enemy.