Someone pointed out in our own working section COMMENTS that, as in the USSR, someone who is not anti-white is a psychiatric case.
Good point.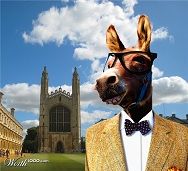 WRONG PLACE!
The black guy who made the pro-genocide You Tube, which only seems to have been seen by us, has the standard replies: 1) personal insults, and 2) We is Ignunt.
You is ignunt takes the form of saying that Mommy Professor agrees with him.
Mommy Professor is a deadly weapon-in-a-word all by itself.
WHY DON'T YOU USE IT?
When somebody brags that all the Intellectuals agree with him, he is sticking his neck WAY out in a world full of college graduates.
As always, it really ticks me off when you don't USE something like this.
Everybody knows professors are full of it. Most people are dying to hear it said.
The Catholic Church even used Mommy Professor's advice as an EXCUSE for not coming down hard on its pedophiles.
It seems like the only people who are still drooling and missing this are we who should be leading in it.