White Rabbit sent me a link which shows a uniformed group of men in New Zealand carrying signs which are all perfect Mantra: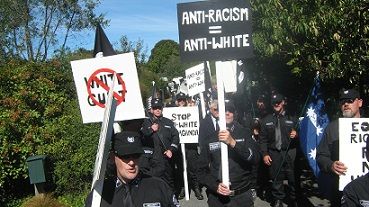 You can't help but love some guys who know how to stick to the Mantra! But what about the uniforms?
Do we panic at the sight of guys waving our words with uniforms on?
The answer to that is that the United States did not hesitate to declare Stalin their ally and to divide the world with him afterwards.
In fact, today in a state of war people would be imprisoned for criticizing Comrade Stalin.
The whole question of one's outspoken attitude to Nazis has been very touchy. It is exactly the same on the left with Communists but the decision has long since been made over there that only a fanatic would accuse Communists of anything. All the villains on national television throughout the Cold War were imaginary Evil Groups like SPECTRE or US Government renegades.
There is certainly no reason for us to insult outright fascists who are helping us. I agree with the modern Pat Buchanan's opinion that the declaration of war by England and France on September 1, 1939 was the most purely disastrous event in a century full of disasters.
Post-white America will be at least an authoritarian state. All colored countries are. But no form of authoritarianism is the choice of pre-Mommy Professor white Americans.
We are surrounded by membership organizations. To gain their respectable title paycheck conservatives scream about Nazis and Buckley supported imprisoning history professors who disagreeing, not even with the Holocaust, but simply about the NUMBER of Jews killed.
What is our position?
The Mantra approach is often to stop talking and listen to the question very, very closely.
If you stop rattling along and listen to that question, it answers itself: What is OUR position?
There is no group, large or small, left or right, which has a clearer "our position." Our whole strategy is defined by those two words, and ONLY by those two words.
We have only one position: that our race must survive.' We are not Presbyterians or Gold Standard stalwarts or Modern or Reactionary. Our position on everything is that all ideologies are meaningless when our racial existence is threatened: "When you can't breathe, nothing else matters."
We approve of people carrying our desperately needed message, in uniform or naked.
We will denounce Nazis if and when it is a good strategy for racial survival. If anti-whites drive people into the totalitarian camp to save our race, that is their doing.
We will denounce vegetarians if it is good for racial survival.
BUGS looks at all of them from Our Position.