During the Cold War every Catholic country outside the Iron Curtain, except dictatorships and Ireland, had a substantial Communist membership in its legislature. In every historically Catholic country outside of Spain and Ireland, the post-WWII elected Communist Party membership ran as high as 30%.
This fact was taken as a given by everybody in Political Science and the media for over three decades.
I never heard it discussed publicly.
Us Bible Belters took the explanation for granted, as did the equally rabidly anti-Catholic "Intellectuals." Anti-Catholicism has been accurately described as "the anti-Semitism of the Intellectuals."
But a Bible Belter can grow up.
An Intellectual cannot.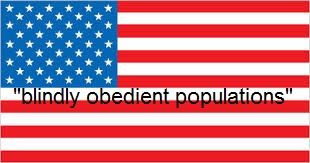 The reason historically Catholic countries had huge, blindly obedient populations who went straight from being slaves of the Church to being slaves of the Party was simply because of a concept that only BUGSERS know:
Wordism
Every colony of a Catholic country had an official policy of assimilation, assimilacion, assimilacao. Until Vatican II the official Church policy was to denounce any religious tolerance — except for Jews — in any country on earth.
All that mattered and matters to the Church is whether one is a Catholic or not. Race, nation, all other loyalties officially were denounced by Rome. Jesus said that to follow him you had to "hate your family."
You were Catholic or you were not. The only treason recognized by the Curia was treason against The Word.
Hence assimilation was official policy in every Catholic country.
Intellectuals assumed that this heavy Communist vote was because of the huge poor population in Catholic countries. They took it for granted that all Catholic countries were poor, exploited, and backward.
On the contrary. France and Northern Italy were historically Catholic and as wealthy as any other developed European country.
Anti-Catholicism simply didn't explain it. But in this case the bigotry coincided with the prejudices of the academics and the media, so it was not discussed.
The real reason historically Catholic countries had exclusively high Communist votes was Wordism.
Traditional Catholics saw Communism as a different kind of DOCTRINE. When they switched sides, it was natural for them to concentrate on replacing their loyalty to a doctrine with loyalty to another DOCTRINE.
The Party replaced the Pope.
Catholics were and ARE taught that their country or their race means nothing compared to the Only True Institution. That is the loyalty every Catholic is raised with.
In Protestant countries religion is just one aspect of life. There has certainly been plenty of persecution in Protestant countries, but in England, Catholics were condemned more as traitors to King and Country than for purely religious reasons.
You cannot understand history or even today's politics without Mantra Concepts.