Archive for April, 2014
In a comment, Jason mentioned that (as I had predicted before it happened, by the way) blacks would get tired of electing whites who said they were black and finally demanding BLACK leaders.
I said this some time before Obama became a national figure.
When the debate changes, whites are likely to demand white leaders.
Another thing I have repeated here many, many times was that Mussolini very nearly missed the March on Rome that put him into power.
In real history, as with Mussolini, you see time after time that the people who keep demanding torchlight parades and instant action are the very ones who make it so routine that they MISS it when a REAL eruption takes place.
It is critical to know when the time is right, when the time may have come.
The problem is that in order to keep people interested and membership up, one has to keep saying that the time is COMING SOON!
Get out your torches, the Parade is about to begin!
After saying that thousands of times, Mussolini was caught totally by surprise when he demanded a March on Rome and the damned thing started without him!
No pro-white membership can afford to take the realistic position BUGS does.
Which is the reason BUGS is tiny and will stay tiny.
There is a progression in any successful movement which is attributed to at least a dozen famous men.
I forget all the steps, but it begins with 1) totally ignored, 2) ridiculed, 3) viciously attacked (note that attacks on BUGS have been very mild so far. Take it from one who knows how nasty they CAN get).
Steps 4) and so forth go on to the point where the point is accepted, or there is a revolution.
BUGS is just beginning step 2).
We glory in it when anybody makes fun of us. Other pro-whites are hurt by ridicule.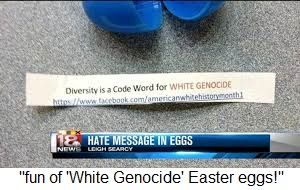 One of our commenters promised to show us a clip from one of those leading Comedy Central leftist shows where one of their two big guys made fun of "White Genocide" Easter eggs!
I doubt seriously whether Jared Taylor would brag about being laughed at by anybody!
But Jared and Dr. Dave have big movements to keep going.
Like other historical leaders they must keep their people enthusiastic.
But there must be room made on the pro-white side for a tiny group of pros who violate the rules and keep track of What and When.
What works, and When we are REALLY likely to move towards power.