There is a Trappist monastery in South Carolina. It is famous down here in such a Bible Belt state.
That Trappist monastery has been here for generations.
It is located in Monck's Corner, South Carolina.
This has always caused a certain confusion. Monck's Corner is not named for the monks at the Monastery.
On the contrary, General/Admiral Monck was a fanatical Cromwellian, anti-Catholic to his bones.
But the Trappists are a symbol of something the Catholic Church has outgrown and we must all outgrow.
No longer do the Trappists whip themselves, starve themselves, and all the rest. It is no longer allowed.
If the Catholic Church can reject all that crap about God loves it when you torture yourself, anyone ought to.
It is time we outgrew the idea that God is a great excuse for self-hatred and for treason.
Governor Beasly tried that kind of blasphemy, and we destroyed his political career.
To repeat, in November 1998 Beasley won the governorship, and even our opponents admitted his win was the result of getting the "Confererate flag vote."
But he wanted to be the vice presidential nominee in 2000, so he had to switch from his sworn support of the Rebel banner on top of the State House. And he had to do it as long as possible before the 2000 Convention.
So in December 1998, the most convenient time possible, he announced that GOD had told him to switch sides.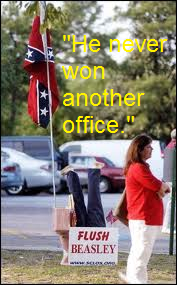 I was the only person to call him a blasphemer publicly, but he never won another office in the state.
Today those who betray us routinely use that Good Old Fashioned Blasphemy.
Puritan or Catholic, our Traditional Values have included the idea that if we suffer, it makes God happy.
And that, boys and girls, is exactly the place from which racial self-hatred grows.
The pope has outgrown it, even the Calvinists have outgrown it.
A guy who worked under me on Capitol Hill had been pro-white, but he went for that "The Orthodox Church" fad, and said he had decided to sacrifice the white race to it.
Ever since Constantinople, the Orthodox Church has had the Emperor or head of state as its "supreme bishop." Real Orthodox Churches are Greek or Romanian or Russian for a REASON.
This cult has guys growing beatnik beards to look like like Eastern priests and claim to be the truest of all the billion Only True Faiths.
This guy asked me if I wouldn't "abandon your racism" in the Name of Christ.
I replied with six words: "I do not believe in human sacrifice."
And I do not commit blasphemy.