Archive for August, 2015
Hillary Clinton's whole personality is Ice Station Hillary. She makes the Republican cuckservatives look real and warm by comparison.
Even her advantage is cold numbers.
By electing Reagan I knew we could bring down the silly ass USSR, I also knew he would do nothing about gut issues of my working people like busing and quotas.
I saw today's problems clearly before 1960.  It's no surprise I saw Reagan clearly after years of working on that side.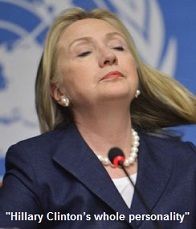 I made news back then actually representing real working people at real marches and real strikes and real press conferences.
Unlike every highly paid Soviet specialist, I not only predicted, but helped bring on the Soviet collapse.
YOU DO NOT BECOME A PAID SPECIALIST BY BEING RIGHT!
I believe Trump has a great chance of being elected, by process of elimination.
But it never occurred to me that cuckservatives could listen to or deal with real working people.
Reaganites did with working people what Democrats do with blacks: They bought them by the lot from their owners.
Cuckservatives did not hire me to deal with working people. They went to the Religious Right, which then took care of the working folks' politics the same way black churches do.
It is expected that those who think Trump is electable are the ones who think he might be seriously helpful.
Like Reagan on race, I see Trump as eminently electable, but useless.