Archive for September 30th, 2015
Implementing White Genocide will take place one White life at time. It will take place step by step. Germany, burdened by a wickedly imposed guilt trip, is leading the way. When will you and your home be the front line?
Fraufuhrer Merkel has pledged to enrich German society with 800,000 non-Germans per year. To prepare the way Germans must not only move over, they must move out. The town of Nieheim has ordered the eviction of Bettina Halbey, a 51 year old nurse, from her home of 16 years. Her crime is her race. She is White. The town of Eschbach has ordered the eviction of twenty-three year tenant Gabrielle Keller, 56, from her home. Her crime is her race. She is White.
It is not just Northern Idaho anymore. Whites are to be chased down in all White countries. Forced into crowded conditions to live out their lives until they expire with their hated race. In Berlin and Washington hostile elite led cuckgovernments are nurturing foreigners while ignoring life's necessities for the native White population.
This has been indirectly achieved in the United States by inducing White Flight, a process by which White neighborhoods are destroyed by forcing lenders to racially balance their mortgage portfolios or by building public housing in order to block bust a community. Housing policy is a major tool for the ascendant anti-Whites. Our people are forced to sell their homes low in order to buy homes high. It is a conscious policy of transferring the sweat of White labor to the leisure of non-Whites. It is a form of theft.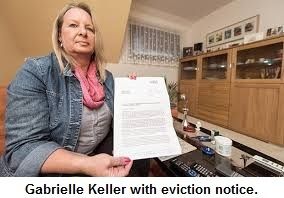 Remember these abused women, Bettina Halbey and Gabrielle Keller. To your great grandchildren one hundred years from now they will loom more important in their memories than you will. They are precursors of things to come – historical markers. White Genocide has stepped up another rung on the ladder towards a White free world.
The death of the White race will come about through billions of scraps of paper, each seemingly trivial in itself. An eviction notice here, a pink slip there. A hate crime charge. A medical treatment denied. A college place refused. A job application turned down.
But you can fight fire with fire. You can write the Mantra on a piece of paper and paste it to a telephone pole. You can post the Mantra on a virtual scrap of paper on the Internet where it will be read maybe by thousands.
What have you done today to fight what is happening to Bettina Halbey and Gabrielle Keller?