Anti-Whites are in control of the media. Therefore the Commission that by law operates the joint press conferences or joint interviews, aka debates, only appoints anti-Whites as moderators, aka, third debaters. This means that the microphones are controlled by partisans of chasing down Whites. Even who can be in attendance is decided with a bias.
Another way of putting it is that the dice are loaded against White interests. The dice cast a lot of sevens for Clinton last night. The snake eyes were only for Trump.
The moderators in the past and this year have displayed bias so blatant that even the media has acknowledged it. Yet no one asks the simple question: If it is broke, why not fix it?
Television news readers are not the only pool that can be drawn from to provide intelligent questions of national interest. There are multiple other resources out there. It is foolish to limit the search to the only professionals less trusted by the public than Congress Critters.
Try as one may there is no way to take partisanship out of organizing the "debates". The towel of mythical fairness ought to be thrown in. Each candidate should be allowed to appoint a co-moderator. A coin flip could decide who gets which half to question and the other can control the timing during that half. Another alternative could be real debates in which only the candidates talk with a silent timekeeper enforcing a set schedule.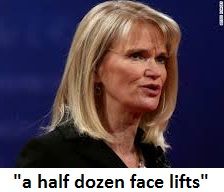 The second debate this year followed the usual path of not addressing White interests. Anderson Cooper appeared to make some effort at even handedness while Martha Raddatz desperately interrupted and hectored Donald Trump. She was frantic to have her Candy Crowley moment when she could slay a GOP nominee. The hate in Martha Raddatz's heart seeped through what seem to be a half dozen face lifts the way an overflowing cesspool oozes out across a lawn. The effect was much the same.
There is no need to catalog further the record of bias on display in past TV extravaganzas posing as "debates".
Bob has spoken about the freedom that being a candidate has given him. A freedom that in is the Bill of Rights.
The "debates" are regulated by law. The Commission is established by law. Laws can be changed. It behooves Congress to take away the power of censorship that the present system has inflicted upon Whites.
The anti-White media must be stripped of its monopoly of public discourse. A candidate such as Donald Trump ought to have his issues addressed. Those are our issues.
Every American is entitled to free speech in theory. A glitch in the law gave Bob a platform. White issues deserve the same. But so long as the anti-White media has a lock on what Americans can hear discussed in public progress is going to be grimly hard.