In the 1980s I changed the name of my "Martian Dictionary" to "The Partisan Dictionary" for the new Southern Partisan Magazine.
So I am trying the same approach with a BUGS Dictionary here.
All this is based on The Devil's Dictionary by Ambrose Bierce.   His definition of "Mulatto" was "A child of two races, ashamed of both."
You may want to join in.
Here are some samples: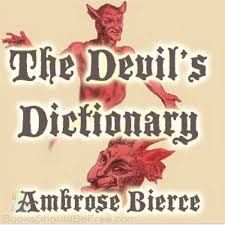 Profession – A government enforced monopoly behind a wall of pretense.
Education – See "Profession"
Money – A medium understood and accepted by both parties the exchange.
Definition –See "Money"
Lie – A word which is used often only by liars.
Hate – See "Liar"
Intellectual – On campus. This is a synonym of "Professor."   The idea that professors ie, "intellectuals," should rule the world, with for environmentalism or for some sort of socialism, is wildly popular on every campus.  Why?   Well, DUHH!
War Crime – Losing.  No one on the winning side has ever been accused of a War Crime.
Mentally Challenged – The words "idiot," "imbecile" and "moron" are legal terms not medical terms. An idiot has a testable IQ below 30.  Imbeciles have an IQ of 30 to 50. A "moron" is defined as one who tests between 50 and 70.
This puts to rest the perennial question:  "is there any real difference between Republicans and Democrats?"
Writer – One whose words are published by an editor, who is qualified by the publishing bureaucracy and educated by the education bureaucracy, which is chosen, generation after generation, by the continuing academic bureaucracy, which is approved by the accreditation bureaucracy, which Is approved ……