Archive for category Bob's Book
BUGS can be an invaluable experience for a Mantra Thinker.
We are a tiny group and will remain a tiny one.
That is because we simply refuse to adopt any of the other pro-white organizations to grow.
Dr. Duke showed to me and White Rabbit his thousands of mentions in Google and his giant membership.
The time will come when any of you can make your living off a cause.
When that time comes you will have to compete, not by spreading a basic concept, but by following another set of rules altogether.
That is where truth is forgotten and Doctrine develops.
What I am saying here is already understood by BUGSERS. My point here is that what comes naturally to you in BUGS can give a complete new world view.
"Why is this information produced?" is the first question we answer here at BUGS.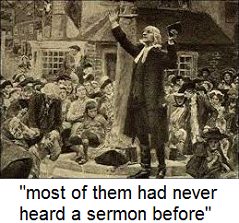 Large organizations' information has to be distorted as they become big organizations. Those who are converted and paying their dues want something entirely different from what you use to spread the truth.
A forgotten reason why the Welsh coalminers and American settlers were converted to Methodism was that when Wesley came to preach to them most of them had never heard a sermon before. The Church of England provided "livings" for its clergy, and there were very few comfortable and assured little "livings" in Wales or Georgia.
The Methodist Church soon became exactly the same in Wales and America, a place where a man could settle down and preach for a living.
In BUGS, you begin with a rule that is obvious in any other part of life:
A prison is run by the inmates. The warden may give you a lecture, but no one who survives believes those are actually the rules.   You survive by learning the pecking order and finding out, not what is written down, but what those who really make the rules want.
Universities are run by the faculty. Their Truth is entirely a product of what those who call themselves "intellectuals" want.
BUGS has the most important mission ever assigned to any human organization. 
But you also have a chance here to EXPERIENCE the basic reality that cripples the spread of any real truth.