Archive for category We Do What Works
A new Mantra tool has been created called "Whitaker STINGS" and can be found at  fightwhitegenocide.com under the resources tab or- http://www.fightwhitegenocide.com/stings/
The Whitaker STINGS Tool is a collection of Bob's talking points on a variety subjects which makes it a perfect companion tool for swarming and responding to anti-whites.
Whitaker STINGS has been a work in progress over many months and its effectiveness has been tested in the field by the BUGSER who created it with positive results. But now its time for BUGSERS  to use it in the field and REPORT BACK.
We've seen the highly useful and effective BUGS BUDDY Tool aid BUGSERS and Pro-whites to combat the anti-White narrative with great success. Now we have another tool at our disposal to use and refine.
Whitaker STINGS outlines Bob's world view with devastating talking points categorized into a tool made to be wielded by anyone who dares yield the Truth and fight the anti-White religion of political correctness and its goal of White Genocide.
I would encourage every BUGSer to have a read through this entire page of Whitaker's STINGS. It is a great recap of all that we have learned from Bob.
By Bob Whitaker – originally Posted March 3rd, 2010 – http://www.whitakeronline.org/blog/2010/03/03/only-white-contributions-are-unique/
Someone once defined Leftism as "A constant screaming about how everyone should be above average."
That is an insane attitude, but it is a very RATIONAL attitude, in the economic sense. Half of he population will always be below average and you will always have a clientele if you rant about it.
Attacks on whites always concentrate on what whites have, not what third worlders don't have that we do. Yes, starvation happens nowhere. Starvation only happens where we are blocked from getting at it. But it will be a cold day in Hell before an anti-white takes notice of this.
But a CAUTION. When we use the Mantra anti-whites' only counter is condemning whites. PLEASE don't argue that. With the reality I just mentioned. PLEASE always hit them with "So you are justifying genocide."
We don't have time or space to get into IQ scores, crime rates, or what the white man has actually done.
STICK TO GENOCIDE.
Someday we will have time to give the information we are aching to give out, BUT THAT TIME IS NOT NOW.
I think this subject may interest you, but it will be far worse than useless if it SIDETRACKS you.
The term "subsistence farming" gives me cold chills. If you actually see that someone is depending on his naked crops out in the field to give him enough food to survive on, it is different from a textbook term. Books always tell us how peasants resisted the new farming techniques, and historians dismiss it as superstition and ignorance.
Of course peasants were resistant. They were TOLD these new methods would produce more food, they may even have believed it, but no one seems to realize why they didn't want to take the CHANCE. It was not an economic risk, it was life and death, watching their families starve to death because they had risked everything on a promise.
Subsistence farming is HORRIBLE. No wonder priests who promise to make the crops good this year by a sacrifice or praying to Saint Whoever got power and money for it. They were the only intellectuals the peasant had. They were usually caring and believed what they said. How was a peasant to know the experts in scientific agriculture were indifferent?
The fact is that a wise peasant would not have believed a ten thousand year succession of well-meaning experts. How would they know that this particular set had a point? Can you imagine how terrified they were even when this was tried on even a few acres, realizing that if this set of priests made it work, they would be forced to abandon methods that had fed their families since time out of mind?
This is not what historians write about or read about. They think only in The Big Picture, who against Progress and how those who were for Progress were the good guys. Their information is produced for each other and for well-fed students who think that subsistence is a credit card at the grocery.
That's not fair but it makes my point.
In the real world, no Indian would go back to his forefathers' world, and they had it good. Indians had thousands of acres for each of them. But they also died young. Almost everyone had pain they lived with that we would not tolerate.
But the rest of our third world had lives that were, in plain English, horrible. They starved routinely. That was the poor guy. Rich ones lost their teeth, for a start. Every single Pharaoh suffered from a malnutrition that would be intolerable today in Nicaragua.
Multiculture is big business, but what offends multiculturalists is that not one single culture the West went into has the slightest interest in dumping all that has come in and go back to their "kinder and simpler" life.
White people had diseases, slavery, no respect for the native culture. But so does everybody else.
Not one single sin of the white man was unique to us. But the white IS unique in what it did FOR the world.
But please read this AGAIN:
When we use the Mantra anti-whites' only counter is condemning whites. PLEASE don't argue that. With the reality I just mentioned. PLEASE always hit them with "So you are justifying genocide." We don't have time or space to get into IQ scores, crime rates, or what the white man has actually done.
STICK TO GENOCIDE.
Someday we will have time to give the information we are aching to give out, BUT THAT TIME IS NOT NOW.
I think this subject may interest you, but it will be far worse than useless if it SIDETRACKS you.
FWG recently put up a new billboard in West Virginia with Bob's meme "White Self Hatred is SICK!" It didn't take long for the local anti-whites to go ballistic over the billboard and within a week were able to intimidate and threaten the billboard owner into taking it down.
Even though the board went up and came down, we have still received some good publicity.  Thanks to Ken Fleming's contact, Cassandra Fairbanks, we were able to have Big League Politics do an article on the billboard coming down. Cassandra did a fantastic job of tying in the "It's Ok To Be White" campaign, our billboard and how there can be no free speech for pro-whites. "Naturally, an over-the-top reaction is exactly what they received", Cassandra wrote. Joe Biggs retweeted the Big League Politics article to his some 408k followers.  https://bigleaguepolitics.com/white-self-hatred-sick-billboard-removed-west-virginia-claims-racism/
Below is FWG's Press Release written by eyeslevel. The Press Release on FWG has now been viewed 7755 times. http://www.fightwhitegenocide.com/2017/11/08/new-billboard-west-virginia/
Fight White Genocide is proud to announce we have put up a billboard in northeast West Virginia featuring the meme "White self-hatred is sick!" Here is our press release for this event:
November, 2017 the struggle against white genocide comes to West Virginia.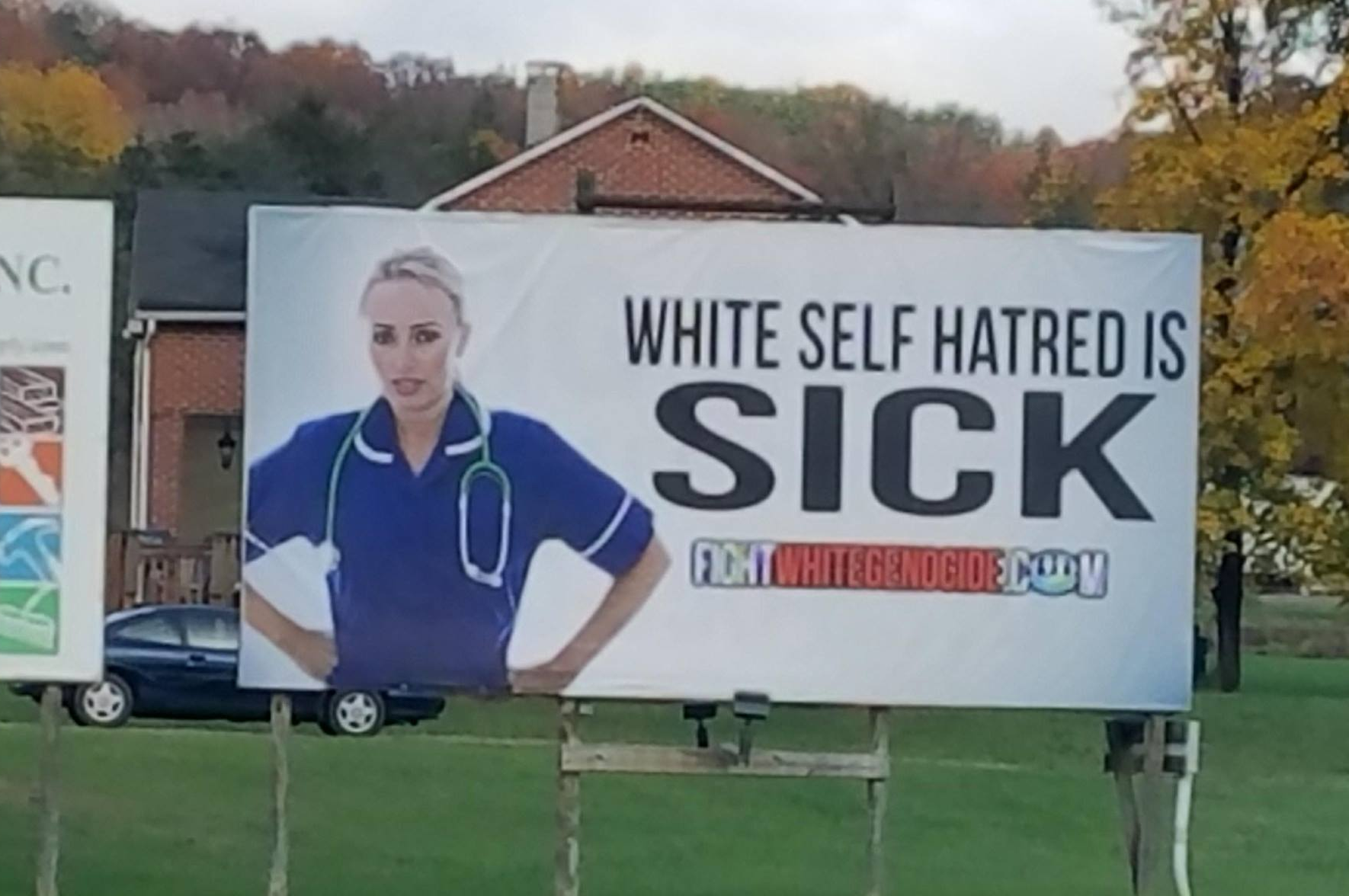 With the generous financial help of our supporters, Fight White Genocide has put up a billboard on US Hwy 50 east of Augusta, West Virginia near Hanging Rock. The message of this billboard is that "WHITE SELF-HATRED IS SICK!!!"
Only people who hated themselves would cheer on their projected minority status and the policies of mass non-white immigration and forced assimilation that lead to it.
Only people who hated themselves would believe that they are uniquely evil because their ancestors engaged in things like slavery and conquest that every race has participated in.
Only people who hated themselves would say "Who cares if my race exists 100 years from now?"
We've all heard about white guilt. But it's really white self-hatred.
Everyone talks about how evil hate is. But the most common hate out there today is white people saying how much they hate white people.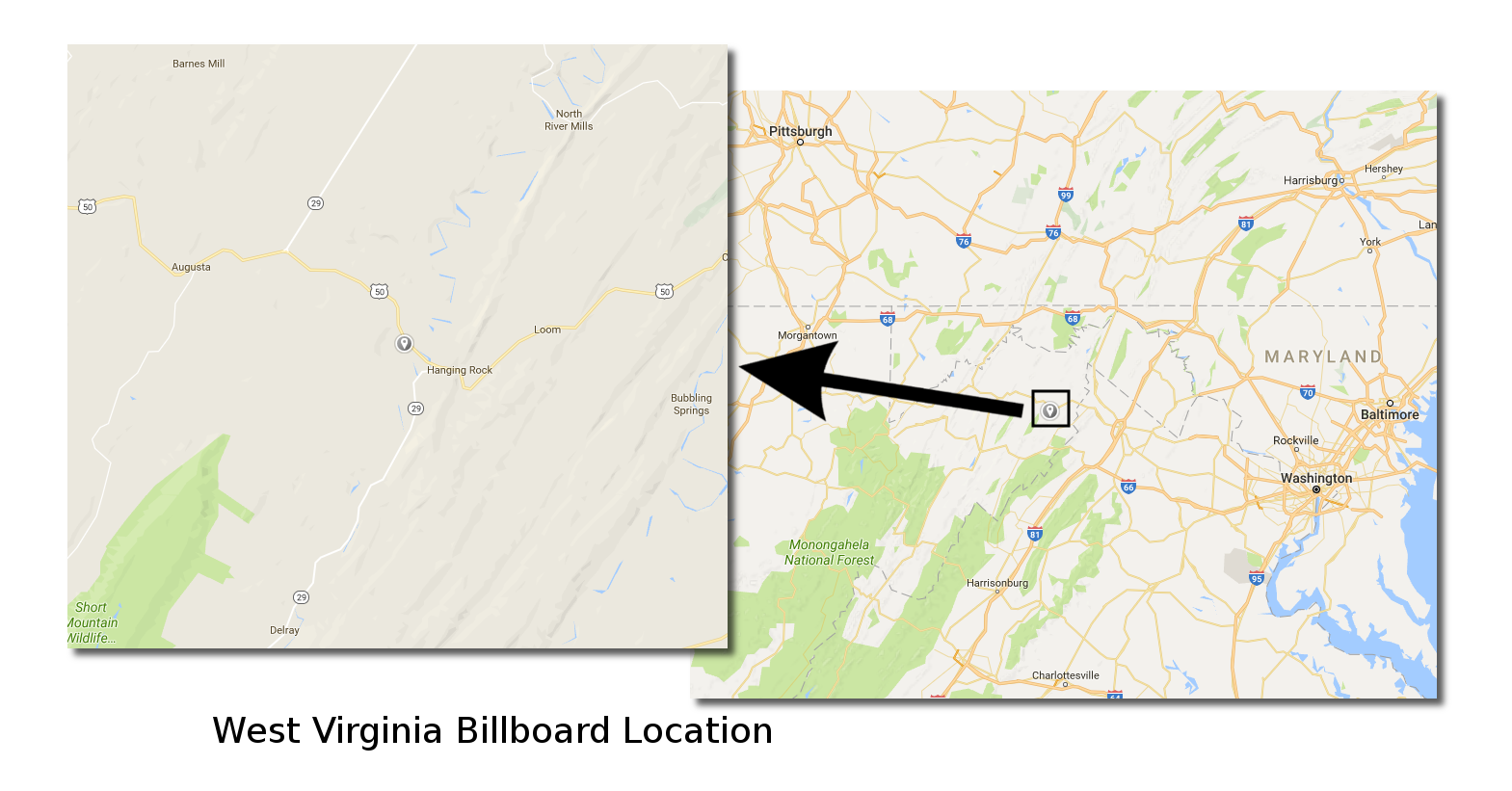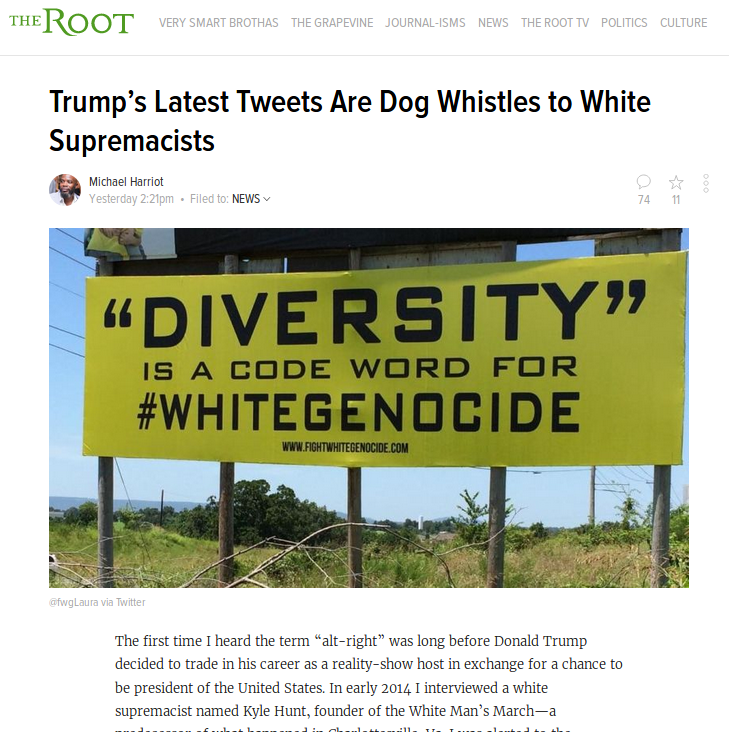 Whites have committed no unique crimes, but they have infinite unique achievements. White self-hatred is not virtuous. White self-hatred is just plain SICK!
White people are being chased down with diversity all across America and Europe. Why are we not allowed to question this policy?
We hope our billboard sparks a much-needed debate and causes white people to honestly examine their self-perception.
This is hate speech you say? How can asking white people NOT to hate themselves be considered hate speech? How is that automatically hating others? If you asked blacks not to hate themselves would you consider that hate speech?
No one questions pro-black advocacy. No one questions pro-mestizo advocacy. Why must all pro-white advocacy be considered wrong? After all, blacks and mestizos have their own homelands they can go to where they have self-determination. But ALL white countries are being deliberately turned non-white. Whites are being turned into powerless minorities everywhere. It is white people above all who need racial advocacy.
In 1985 the Soviet Union seemed invincible. But a handful of citizens known as Samizdat braved repression and prison terms to question the Soviet system. "Why does a workers' paradise have to shoot escapees?" they asked. Other Soviet citizens began asking why, indeed, does a workers' paradise have to shoot escapees? And support for the Soviet system crumbled. Today, Political Correctness also seems invincible. But we are determined to bring down that evil empire, too, and in the same way: by questioning it. "Why must white people hate themselves for doing things every race has done?"
Our billboard in Springville, Alabama was removed due to harassment and threats of lawsuits. No reason is ever given for suppressing our message other than that it is heresy to the established Religion of Political Correctness.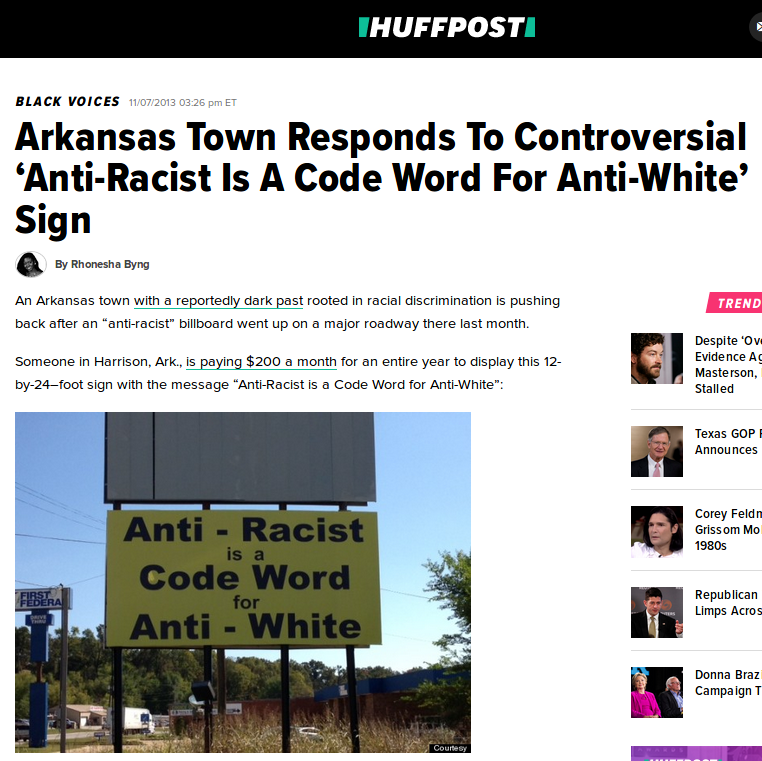 What use is free speech if you are not allowed to say anything controversial?
About Fight White Genocide
Fight White Genocide is a group of human rights activists calling attention to the crime of genocide being committed against the white race. The crime of genocide was codified under international law by General Assembly Resolution 260 (adopted Dec 9, 1948 in effect Jan 12, 1951), The Convention on the Prevention and Punishment of the Crime of Genocide.
This genocide is being carried out by means of mass non-white immigration and forced assimilation in ALL and ONLY white countries the goal of which is to force blend ONLY white people out of existence. Anyone who objects to this crime is subject to harassment, intimidation, violent acts and threats of violence, psychological terrorism, job loss, and prison terms.
We DEMAND an open and free discussion of white genocide without threats of attack from screamers, thugs, or thought police.
We DEMAND a worldwide repeal of all laws that make it illegal for white people to speak out for their racial interests.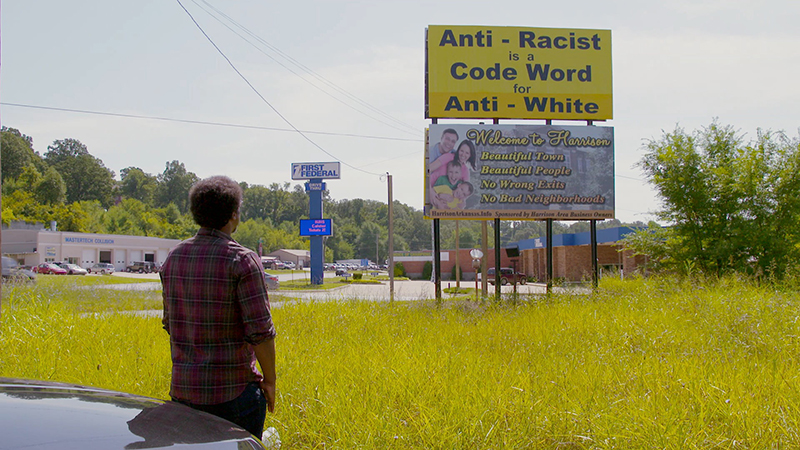 Fight White Genocide members are the proprietors of the fightwhitegenocide.com website.
Our billboards have been featured on United Shades of America and major news sites. There's no such thing as bad publicity IF you have an effective message that's true and that discredits your enemies, in this case the reigning anti-white system.
Billboards cost money. Your financial support is appreciated and necessary to keep billboards like this up. We'd love to put them up all across the country, wherever we can find a billboard company brave enough and dedicated enough to free speech to allow us to spread our much-needed message. Help us fight the epidemic of white self-hatred ravaging the globe and help us FIGHT WHITE GENOCIDE.