Whether Trump wins or loses, we have to go right back into attack mode.
Yes, the snobs denounced our "white genocide" campaign.
But "White Genocide" is what is making the Duke for Senate campaign go, and the media have admitted it.
Though it will be a long cold day in the Bad Place before the snobs will show the simple honesty to admit that, the media state it clearly and repeatedly.
Another little piece of simple truth that these self-styled "gentlemen" simply will not even MENTION is that it is the BUGS line that WORKS.
Two times the AFP went against the straight BUGS approach.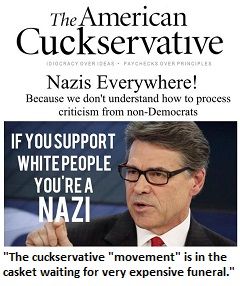 And both times, out in the real political world, Trump denounced what they said.
When they used OUR lines, the Trump camp Twittered it back!
In the real world the snobs' approach fell on its tail.
And neither time did they ADMIT it.
A gentleman is an honest man.
The snobs are NOT honest. Someday even the cuckservative money men are going to have to face this reality.
The cuckservative "movement" is in the casket waiting for very expensive funeral.
NR and RNC are both dead.
The longer we hold off the funeral, the less our chances of having anything worthwhile left after we stick those corpses in the grave the less likely there will still be anything worthwhile saving.
Which is exactly what the cucks are financed to do.
The only hope is that we will BURY these stinking corpses NOW!