No one EVER mentioned that EVERY Communist country had to keep its people in by deadly force while all Western white countries had to keep people OUT.
In 2010 Alvin Greene, a complete unknown, won the Democratic Senate nomination in South Carolina because the ballots handed out at black churches got his name at the top.
I have never heard a single example of Viet Cong atrocities on any national media or on any entertainment program.
I have never heard of a single example of Soviet atrocities in World War II.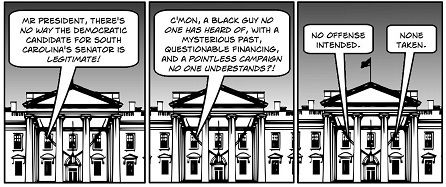 I have never heard anyone but me mention publicly that Alvin Greene won the statewide South Carolina Democratic Senate nomination because the voting instructions handed out at black churches accidentally had his name at the top.
During the decades in which network television ruled, presidents and vice presidents were impeached, big time evangelists went to prison, and there was corruption in every place where there was Big Power and Big Money….
Except in the Media. Cronkite, Rather, and all the other big timers never had a breath of anything LIKE scandal.