Archive for November 21st, 2012
One of our commenters pointed out that Rowan Atkinson has denounced "the new intolerance," Hate Speech Laws in Britain. I just made flippant reply about having Blackadder on our side.
Let me make up for that.
I cannot see YouTubes on my battered computer any more. What I can see is the page, and Atkinson standing in front of an audience which is actively trying to get rid of the Hate Laws in "Reform 5." Behind him are the words, "Feel Free to Insult Me."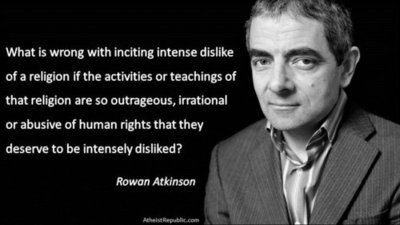 When I looked it had been seen by over a quarter of a million peoiple, with 6,988 "likes" and 28 "dislikes."
By the way, I don't know what language you Limeys speak, but in the one I learned there is no such noun as "Hate." My Enlgish teacher would have put a big red X bneside it.
The word is hatred, and it is not capitalized.